27 Jul

The End Is Just The Beginning

Selling your business is a major lifetime milestone. In some cases this may take years to accomplish. At Maclendon we advise entrepreneurs throughout all phases of the business cycle, from start-up to exit. We have witnessed the ups and downs both financially and emotionally of entrepreneurs. According to entrepreneur.com, it is estimated that over the next 10 years, approximately $13 trillion will transition to new owners as entrepreneurial baby boomers look to the next phase in their lives. As you can see in the chart below, small business transactions have picked up in recent quarters and we expect this trend to continue.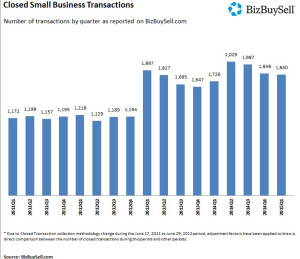 Leading up to exit
Entrepreneurs begin thinking about exiting when they want to do something else besides go to work every day. They would rather be doing something else, or are simply no longer getting the same sense of satisfaction in what they are currently doing. An exit strategy can be complex and involves personal, business, and wealth management concerns. To prepare for such a transition, what should entrepreneurs be considering?
Pre-sale, business owners should determine what they want out of their business and why. This is does not necessarily mean monetary outcome, but what type of legacy do they want to leave. Most entrepreneurs would like to see the business they built last well into the future. They should look for a buyer that is like-minded and who they believe can execute on that vision and possibly take the business to the next level. To help these efforts, prepare a checklist. This could include putting a team together of lawyers, accountants, business valuation experts, and financial advisors to sit on the same side of the table and have your best interest in mind.
Business owners should also understand what they have to offer. In some cases business owners have a delusional expectation of what they believe their company is actually worth, which is understandable because of all the hard work, sacrifices, and time dedicated to the success of the business. This misconception can create tension in negotiations both internally amongst trusted advisors and externally with the potential buyer. At the end of the day the company is only worth what someone is willing to pay for it. We advise our entrepreneurs to really understand the business landscape and the potential opportunity when considering a monetary number that is separate from the emotional numbers to begin negotiations.
Adding Value
Explicitly showing the potential and value of your business should be a main focus. You want to obtain the highest value and the only way to do that is to make your business attractive to would be buyers. Whether a buyer will pay a premium price for a business depends on the efforts of the owner to adopt and implement processes that add value. What can you do to make your business more attractive to buyers?
Be aware of any issues and try to rectify them as soon as possible. Have a qualified management team in place to show the buyer that the company can run without you. One of the biggest value add to buyers is actually having a succession plan in place. Extensively planning before an exit to ensure a smooth transition may warrant a premium paid by the buyer. Be transparent as possible. Buyers do not want any surprises and if they find them in their due diligence it can immediately sour the deal. The more candid you can be the better!
Non- Traditional Considerations
We could obviously go on and on and focus on the more traditional factors of preparing for an exit by cleaning up the books, updating processes, and informing current relationships, etc. but what about the non-traditional aspects? We find these aspects to be more often than not overlooked throughout the entire process. For most entrepreneurs, they have put their blood sweat and tears into building their business.
The unexpected psychological impact of not running a business is hard for many to overcome.
The business often plays a large role in who the entrepreneur is. It is a pillar of their personal identity and a central influence in the owner's life. Once the business is sold, a sense of elation, freedom, and joy are sometimes followed by an entrepreneur suffering from depression. They feel as if they have lost their sense of direction or purpose. This sense of purpose from their business is now a void in the entrepreneur's life and must be fulfilled. But what does that mean? Whether that entails starting a new business venture, enjoying the liquidity that they have worked so hard for, or simply helping others, this new reality is often over looked post-sale.
What's Next?
We encourage our entrepreneurs to look beyond the sale of their business. What does life look like? What are some of your ambitions? Very rarely do entrepreneurs sell their business and then simply retire. There are many aspects to consider. Entrepreneurs should determine what they will need in post-sale life. They should reach out to advisor to develop a plan for the next stage in their life. They should treat post-sale life just as they did their business, by setting goals and striving to achieve them each year.
Just like building a business, exiting one can take up time and resources as well. The farther in advance you begin to plan your exit the more options you have and the better the outcome is likely to be. We advise many entrepreneurs not to rush the process. There is no standard path and it is very unlikely things will go as planned. Just as in life, you will have surprises and unexpected events. Speak with your spouse, mentors, and advisors to get their feedback. Do not go it alone. It took partners to build the business, it will take partners to execute a succession plan. Our goal is to help you make a smooth transition and determine what is next so that you can continue to live out the life you have set out to live.